Thanksgiving is nearly upon us. School children across the country are likely studying the origins of this American holiday. Classrooms are abuzz with words like Mayflower, Plymouth Rock, Puritans, pilgrims, Native Americans and feasts. Some students may even be dressing up as Puritans and Native Americans with iconic images such as hats with buckles or headdresses.
In recent years, though, many have drawn into question the accuracy of the traditional historical account of Thanksgiving as it has been taught in American classrooms for decades. People have spoken out about the narrative put forth regarding Thanksgiving and the interactions between indigenous peoples and the pilgrims.
Such a wide range of sentiments toward the historicity of Thanksgiving nowadays begs the question, even for Christians: How should we approach this holiday and its historical accounts with our children?
Thanksgiving is a great time to talk about the nature of history with our children. History isn't just one account of past events. Different voices and perspectives provide a more complete picture of historical events. We can explore the first Thanksgiving and its surrounding events together with our children in an effort to move toward a more complete picture of this significant part of our nation's history. In an effort to engage with our children on this topic, the following questions may be helpful:
What did we learn in school and what are our children learning now about Thanksgiving?
Our kids seem to love it when we talk about our own childhood experiences. Sharing with them what we learned about Thanksgiving and the seasonal school traditions we took part in can help build connections to talk about what they are currently learning. This is also a neat opportunity to include other family members (grandparents, great aunts and uncles, etc.) in this conversation.
What were the conditions surrounding the interaction between the indigenous Americans and the settlers?
One great way to explore this question and its possible answers is by reading Thanksgiving-focused books with our children. There are lots of Thanksgiving books for kids, ranging from light-hearted to serious, fictional to factual. What can be particularly helpful in reading Thanksgiving books with our kids is variety, finding books that express the different voices and perspectives that are key to understanding history. Here are a few book suggestions to get you started (This is in no way a comprehensive reading list for Thanksgiving; as with any media, prior parental review is recommended.):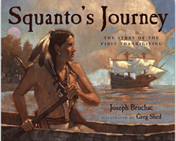 Squanto's Journey: The Story of the First Thanksgiving by Joseph Bruchac - Stunning artwork and the native American heritage of the author make this book a Thanksgiving must-read.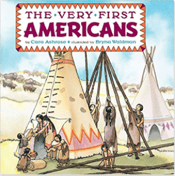 The Very First Americans by Cara Ashrose - This is a great introduction to and explanation of the many peoples that inhabited America.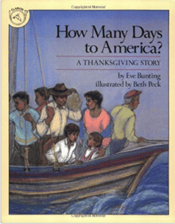 How Many Days to America? by Eve Bunting - Take the arduous journey to America with a Caribbean family escaping danger in their homeland.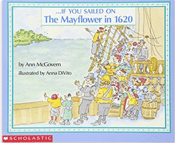 ...If You Sailed On The Mayflower in 1620 by Ann McGovern - This book is helpful in encouraging children to think about what life was like on the Mayflower.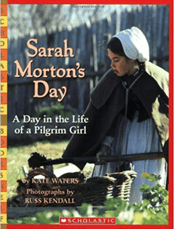 Sarah Morton's Day: A Day in the Life of a Pilgrim Girl by Kate Waters - Follow a young pilgrim girl as she goes about her daily life. Check out other works by the same author: Samuel Eaton's Day: A Day in the Life of a Pilgrim Boy, Tapenum's Day: A Wampanoag Indian Boy in Pilgrim Times, and On the Mayflower: Voyage of the Ship's Apprentice and a Passenger Girl provide distinct voices and perspectives on this time period.
Finally, how can we invite Jesus into our Thanksgiving celebration so we can reflect His Word and His Will?
With many, many commands to "give thanks" throughout the Bible, God makes it clear that deep, sincere gratitude is important to Him. The Psalms are peppered with verses like "Give thanks to the LORD, for he is good; his love endures forever." I Thessalonians 5:16-18 says, "Rejoice always, pray without ceasing, give thanks in all circumstances; for this is the will of God in Christ Jesus for you."
While it may be challenging to help our children fully understand the events surrounding the first Thanksgiving, we can more easily direct our children to the heart and purpose of what we celebrate in this special season.