Thank you.
These are two powerful words.
When communicated in a warm and sincere fashion, they can alter a drab, fall Central Ohio day into a day that has been given a serious boost toward the positive. Think about it - who doesn't like to be genuinely thanked?
When I am able to allow a student to fetch a wintergreen Lifesaver out of the ever-present treat jar on my desk, the vast majority of times a "thank you" is offered. Being a dad of two kids and a long-time educator, this is music to my ears. It is because I know of the training and modeling that it takes for the thank you to be said when us parents are not around!
This training and modeling does not stop at Lifesavers. What about when hard events happen in our lives?
Gratitude is more than just good manners. It is an attitude that Jesus modeled for us and one that Paul wrote about to early believers.
…He directed the people to sit down on the grass. Taking the five loaves and the two fish and looking up to heaven, He gave thanks and broke the loaves. Then He gave them to the disciples, and the disciples gave them to the people. Matthew 14:19
Be joyful always; pray continually; give thanks in all circumstances, for this is God's will for you in Christ Jesus. 1 Thessalonians 5:16-17
As parents, we have the opportunity to model for our children a genuine, thankful attitude toward life's events – no matter what circumstances are happening around us.
Reading books is a natural way to emphasize gratitude and talk about the season of Thanksgiving. There are many picture and children's books on these topics. Here are a few for you to check out with your littles: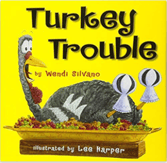 Turkey Trouble by Wendi Silvano - This light-hearted book follows a turkey and his attempts to disguise himself around Thanksgiving.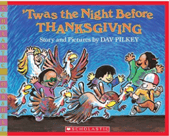 'Twas the Night Before Thanksgiving by Dav Pilkey - A group of children visit a farm and meet a farmer and his group of turkeys and learn there are many reasons to give thanks.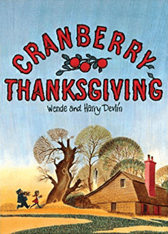 Cranberry Thanksgiving by Wende and Harry Devlin - This is a bit of a long read for littles, but it's a classic that focuses on family, food, and loving others.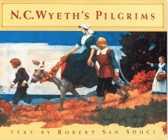 N.C. Wyeth's Pilgrims by Robert San Souci - Beautifully artistic, this book offers not only incredible illustrations of the time of the first Thanksgiving but also gives insight to some of historical misconceptions.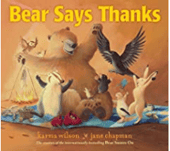 Bear Says Thanks by Karma Wilson - Bear invites his friends for a nice big meal, but he has no food in his cupboards. Find out what he discovers to share with his friends in this playful celebration of food and friendship.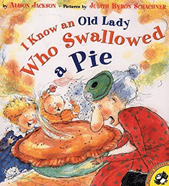 I Know an Old Lady Who Swallowed a Pie by Alison Jackson - Two children watch with delight as an "old lady" swallows a pie, a squash, a salad, then an entire turkey! Children enjoy the humorous nature of this tale, as well as the rhyming text. And keep an eye out for the old lady's white cat!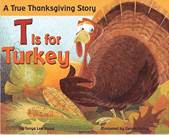 T is for Turkey by Tanya Lee Stone - This book has rhyming text that cover the letters of the alphabet...all in the context of Thanksgiving traditions!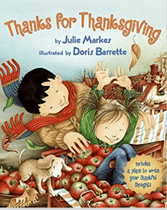 Thanks for Thanksgiving by Julie Markes - It's important to give thanks for all things, big and small. This book does a great job of illustrating that.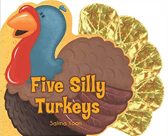 Five Silly Turkeys by Salina Yoon - A counting book with eye-catching illustrations of silly turkeys doing silly things, this book is great for little readers, especially toddlers.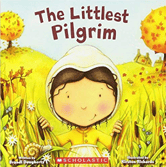 The Littlest Pilgrim by Brandi Dougherty - Mini is a little pilgrim, too little to do many things in her village. But she's not too little to make a friend.
Happy reading!