I typically let my kids pick out what books we read at bedtime each evening (I hold veto power over their choices if it's longer than I have the energy for). One of their go-to picks these days is the Little Golden Book classic Home For a Bunny by Margaret Wise Brown (author of the classics Goodnight Moon and The Runaway Bunny). A cute story about a bunny in search of a proper place for himself, this book's first pages accurately sum up how I feel about this time of year: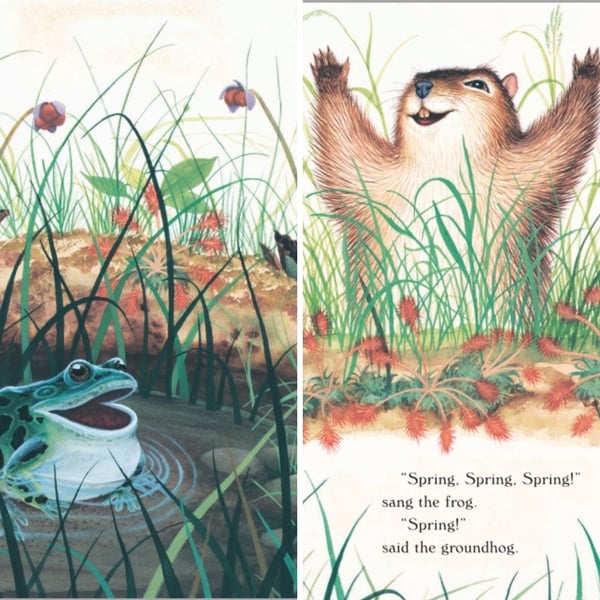 Though not officially here until March 20, spring is upon us! Temperatures are gradually rising, there is no shortage of rainfall, and the sun is beginning to appear again after what feels like months of hibernation. Having grown up in Tennessee with far milder winters, I never fully understood the beauty and blessing of spring until I moved to Ohio.
There are so many ways to celebrate spring with preschoolers. Getting outdoors seems to be the best way ("naturally")! One of my favorite things to do with my two littles is attend the toddler and preschool programs hosted at local Columbus Metro Parks. My kids have made their own deer antlers, seen and touched several creatures, and learned countless facts about the natural world around us through attending these (free!) classes.
There are also, of course, many books to spark conversation and generate questions about spring with our preschoolers. Check out the following titles: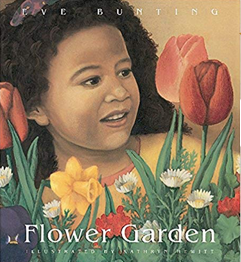 Flower Garden by Eve Bunting - A girl and her dad work to create a beautiful gift for her mother, that involves purchasing and tending floral plants. With its rhyming verse, captivating illustrations and themes of flowers and family, this title hits lots of great notes for young ones.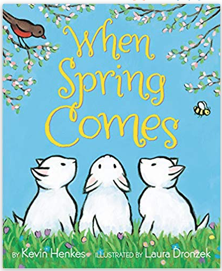 When Spring Comes by Kevin Henkes - The award-winning, best-selling creator of famous characters like Chrysanthemum, Lilly and Penny, has also written books for each season of the year. This book compares what winter looks like with what comes in spring. The illustrations and simple language make this very accessible for all ages.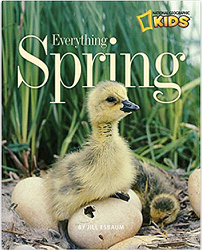 Everything Spring by Jill Esbaum - I'm always on the lookout for good non-fiction reads for preschoolers, and this one fits the (duck) bill. Age-appropriate facts related to springtime coupled with detailed images of baby animals, what could be better?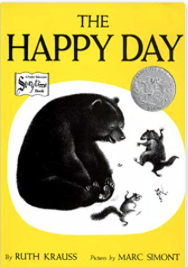 The Happy Day by Ruth Krauss - Truly a classic (winner of the Caldecott Honor in 1950), this book follows a bear as he watches spring poke through the snow.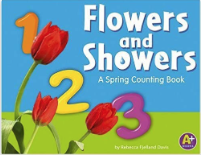 Flowers and Showers by Rebecca Davis - This spring-themed counting book is a winner.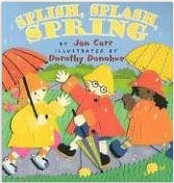 Splish, Splash, Spring by Jan Carr - From puddles to chirping birds, flowers in bloom to sunshine, this book is a celebration of all things spring.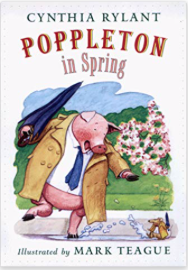 Poppleton in Spring by Cynthia Rylant - Three short stories in one book, this title is great for bedtime. Follow Poppleton and his friends as they take part in springtime activities.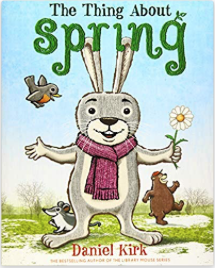 The Thing About Spring by Daniel Kirk - A group of animal friends are excited for spring to come, all except for one who loves winter and doesn't want to let go of some wintertime things. His friends tell him all the things to be excited about in spring.