Kids love Christmas. The gifts, the decorations, the treats, and the tradition can become magical memories for them. As parents, it's such a joy to observe their excitement.
This Christmas season, as my kids are another year older, I am noticing that their understanding of Christmas is changing. My preschool-aged daughter now recognizes popular Christmas songs, is able to engage in a family-friendly advent devotional with me, knows from memory most of the facts of the Christmas story, can (almost) decorate a sugar cookie without smearing icing all over the house, and is fully anticipating the "getting presents" part of Christmas Day.
As this maturation is occurring before my very eyes, it's causing me to think of this season differently, too. I'm wondering, "What am I communicating is the most important thing about Christmas?" and "What do I want my children to feel true excitement for in this season?"
As with so many other elements of life, I find Christmas-related picture books to be great conversation-starters with my daughter. There are countless holiday books out there that can be hard to sort through...some focus on the original story of Christmas while others highlight cultural elements of how Christmas is now celebrated. Many are good reads for slightly older children; it's a bit more difficult to find preschool-friendly options. The following list has a little bit of both for you to enjoy with your preschooler...happy holiday reading!
Oliver Elephant by Lou Peacock - If your children have ever had to go shopping with you, they may be able to relate to this story. Noah goes out for a full day of Christmas shopping with his mom and sister and beloved toy elephant. By the end of the day, Oliver Elephant is nowhere to be found. Colorful illustrations and rhyming text make this longer read easy to follow.
Pip and Posy: The Christmas Tree by Axel Scheffler - Pip and Posy decorate their Christmas tree with edible decorations, but the decorative treats keep disappearing. This is a funny yet easy-to-follow storyline for toddlers, and provides an opportunity to talk about honesty, forgiveness and friendship.
Christmas in the Barn by Margaret Wise Brown - The author of the classic Goodnight Moon tells the story of the birth of Jesus with gentle rhymes and phrases from familiar Christmas carols. Your child might enjoy listening to some of the songs referenced after reading this book.
Coat of Many Colors by Dolly Parton - Though not exclusively about Christmas, this children's book by music icon Dolly Parton based on her own childhood experience is a great way to talk about kindness and bullying. It may also be a way to discuss seeing and meeting the needs of others.
Humphrey's First Christmas by Carol Heyer - Something about experiencing the world from an animal's perspective seems to catch the attention of children, doesn't it? Humphrey is a camel in the Wise Men's caravan. Kids enjoy his journey to meet Jesus and get a glimpse of what it looks like to love Him.
God Gave Us Christmas by Lisa Tawn Bergren - If you've read any of the God Gave Us series, then you know this little polar bear loves to ask questions. In this Christmas story, Little Cub asks questions like "Is God more important than Santa?" and other questions your child may be wondering. Follow Little Cub and his mom as they discover the true significance of Christmas.
Song of the Stars by Sally Lloyd-Jones - From the author of the incredible Jesus Storybook Bible comes a Christmas story written in her beautiful style.
Christmas in the Manger by Nola Buck - Simple text make this text accessible for even the youngest of readers.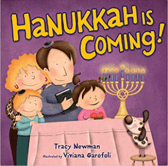 Hanukkah is Coming by Tracy Newman - This is a great introduction to some of the traditions involved in the Jewish holiday Hanukkah. Use this book to discuss how others celebrate this season.
How Dinosaurs Say Happy Chanukah? by Jane Yolen - Join Jane Yolen's familiar dinosaurs as the traditional Jewish holiday in their own wild way.